Lew Cady passed away Sunday morning, August 4, surrounded by his wife and daughters, after a two-month hospital stay and several months of health trouble. He was 76.
Though not as renowned or instantly recognizable as Michael Jackson (the beer one, not Thriller), people who knew Lew would say that Michael Jackson was no Lew Cady.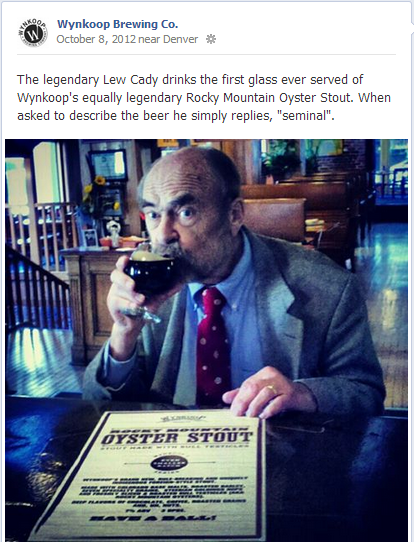 Tongue in cheek, beer in hand.
That's how I remember Lew. Though I only ran into him twice, this was the kind of stranger you adored running into.  Both times, I knew that people knew him.  He had that "people know me; I'm kind of a big deal" Ron Bugundy-esqe quality about him, though he was never showy or arrogant about it.  He was a Colorado beer guy, through and through.  And even though that meant he more than likely drank more gallons of Coors in his later years than you did in college, he had a fondness for the Colorado beer scene that even the uber nerds couldn't touch.
His framed $5 bills, marking the establishment's first purchase, can be found all around Denver and the Colorado front range.  A comprehensive and mind-boggling list of firsts (and lasts) can be found here, not the least remarkable accomplishments include being first to drink at a brewpub in all 50 states, as well as being the first person to purchase beer from a liquor store in Colorado on a Sunday after the law permitting such sales went into effect on July 6, 2008 (it was Coors Banquet, and it was 8:00 AM).
I first met Lew at the opening of Black Shirt Brewing Company in Denver.  This guy didn't mess around with taster flights, he dived straight into a glass of the flagship Red Ale.  I remember him liking it.  And I can't remember much of what he said, but without even knowing he was the Lew Cady, he seemed like the kind of dad or grandpa who would hand you a Sierra Nevada Pale Ale on your 16th birthday and tell you old wizened tales of experience.  Good tales, too, not the "back in my day…" kind.
He wrote two books on beer can collecting, referred to the mountains as "the pointylands", and probably loved beer more than the people who seek out the latest barrel aged triple IPA.
Wynkoop Brewery frontman Marty Jones posted the following on the Wynkoop Facebook page, commemorating the life of a guy I wish I knew better.
For a long time, Lew Cady has been the coolest man in Colorado and the genuine "Most Interesting Man in the World." He was the dad you wished you had, the ultimate catalyst for adventure, and the most creative/kooky person you ever knew. 
He was our brewpub's first Idea Man and let's-do-something-keenly-crazy collaborator with John Hickenlooper. Lew's many Wynkoop creations include the Beerdrinker of the Year. He played a crucial role in our brewery's history and early success. 
More importantly, Lew's approach to life made you realize you weren't having as much fun as you thought, weren't as loose as you thought. Lew helped you realize you were actually doing a feeble job of living life to the fullest and bringing joy to the people around you.
He made a ton of people happier. He changed a ton of lives for the better. 
We will miss him terribly, but we are so glad we knew him and had him as our friend. And we send a brewpub full of love and sympathy to his family and friends.